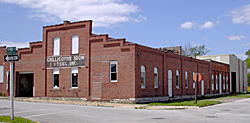 The original home of Chillicothe Iron & Steel, Inc.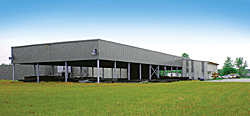 Our current facility.
The History of
CHILLICOTHE IRON & STEEL, INC
Chillicothe Iron & Steel, Inc. has forty of the most highly qualified employees. Nestled in the quiet rural town of Chillicothe, MO, we produce buildings for the Midwest. We have been a family-owned business for thirty-eight years producing quality structural steel. Being a family-owned business, we have very little change in personnel. As shown left and below, our outside facility of 27,000 sq ft is capable of storing steel for several projects.
Our production area of 30,800 sq ft is designed for optimum efficiency. Material is sawed and punched as it enters the facility, moved to the welding station, and then finally painted and loaded. We are in the process of adding 10,440 sq ft.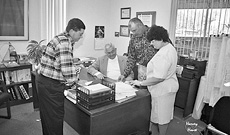 Pictured left to right: Kent Peterson, Armand Peterson, Bob Rounkles, and Kara Rounkles